our studio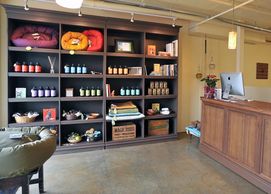 Earth
friendliness
in our everyday business practices is a top priority, so at our dog grooming studio, we make every effort to minimize our impact on the planet.
Our lighting and appliances are energy saving, the paint on our walls is zero VOC, our furniture and shelving are made from reclaimed and reused materials, and our displays were found at local thrift shops. We purchase our power from Bullfrog Power who ensures our electricity comes from clean hydro and wind power.
Our towels are previously loved, we keep our studio clean with organic disinfectant, and do our laundry with bio-degradable soap.
But we don't stop there. All of our cookies are baked with organic ingredients, and our staff ride their bicycles to work.

Every item we sell in our store has been chosen with care, and is made from the most sustainable and earth friendly materials available, and are manufactured as close to home as can be. And they're durable, so they last a very long time... the planet likes it better that way.
---
---
where to find us

3471 Commercial Street
Vancouver, British Columbia
V5N 4E8

how to talk to us

hours

9:00am to 5:30pm Tuesday - Saturday
Closed Sunday - Monday
Closed Holidays