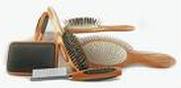 You've just come home from the pet store with yet another dog brush and you think (not for the first time) that with the assortment of brushes you've got, you could open your own grooming studio!

What's the deal with this? Why are there so many different brushes, and how are you supposed to know which one you need?

Well, here's the lowdown:

Dogs' coats can be broken into three basic categories: those with short or medium hairs that shed but do not need cutting, those with long hairs that tangle and usually require cutting, and those that enjoy both of these traits. You'll need to know where your dog fits in before you decide on a brush.

Brushes on the other hand are divided into either the shedding camp, or the tangles camp. However, if your dog exhibits both of these features, you'll want brushes for both as well.

First we'll talk about shedding coats. If your dogs hair is short, such as a Labrador Retrievers or a Pugs, you will want a brush you can rub on his coat in a circular motion, keeping constant contact with his skin. This action loosens both the guard hairs (or top coat) and the undercoat, and causes them to fall away from the body. A rubber currycomb with big rubber nibs works best, but there are a few variations of this brush - some with small nibs, some with soft nibs, some in the form of a mit, and some with hard plastic nibs, but they all act on the same principal. Additionally, some short haired dogs have quite alot of undercoat, while others have very little. A carding tool such as a Furminator will pull out this additional undercoat, but a good rubber currycomb is all you need to get started.

If your dog sheds medium length hair, such as a Border Collie, Golden Retriever or Pomeranian, a slicker brush will help you work through any mats as well as remove loose undercoat. A rake however, will be your workhorse - this tool rakes out all the excess undercoat not easily removed with a slicker. A pin brush is a good maintenance tool on this coat for everyday brushing as it's gentle on the skin, but lacks the strength to tackle mats and bulky undercoat. It's a nice addition, but not a necessity. Finally, you can finish with a carding tool such as a Furminator, when the rake can pull no more hair out. This is also a nice brush to have, and will keep you one step ahead of the furballs under the sofa. If you only want to buy one or two brushes, get the slicker first, then add the rake and you'll do fine.

Now, long coats which are prone to tangling or matting require a little more attention than other coat types. A slicker is used to remove mats and loose undercoat, followed by a metal comb to check for small tangles and pull out undercoat the slicker misses. A pin brush is a nice maintenance tool here as well, when used daily, and will not irritate the skin, which can happen when slicker brushes are used incorrectly. If you want to start with just one brush, get a slicker, then add a metal comb later.

A note on slicker brushes: knowledge of the correct method of use for a slicker brush is important both for good results, and to prevent skin irritation. Read our blog post on correct use of a slicker brush, or visit your groomer to have her give you a demonstration.