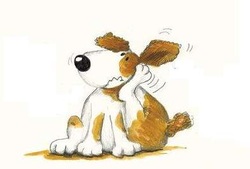 Now that you've ruled out fleas, start with the most likely culprit. Usually this is diet. If you feed your dog the same food every day, she's probably lacking nutritionally, even though the label on her dog food says "complete and balanced". The nutritional requirements a dog food company must live up to, ensure your dog is getting enough nutrition to keep her alive. This is not the same and healthy and thriving. Think about what is important for humans (we are both mammals, and omnivores after all). We need variety. If we ate fortified cereal ("for a complete and balanced breakfast") and even threw in some broccoli and apples every day, we would still be lacking in many other essential vitamins and minerals, and eventually become ill. So give your dog variety. Now think about
fresh food
if she's been living on kibble and / or canned food, processed food is bad for people and pets for many, many reasons. Find a good purveyor of fresh dog food in your neighbourhood, or learn how to make it yourself. Be sure to do your nutritional research if you do decide to make your dogs food, be it raw or cooked. Many people find a raw diet completely eliminates their dogs skin issues, but remember, dogs need variety just like us, so you can't just go to the butcher and feed her hamburger meat. Also, be sure to buy
organic
fresh foods. There is a world of difference! Non-organic meats, vegetables and fruits are laden with pesticides, radiation, and medications, which will tax an already depleted immune system.
Now comes the hard part. Narrowing down which ingredients your dog may be reacting to. An advantage of making the switch to fresh food is, you know exactly what ingredients are in her diet. Narrowing down now becomes much easier.
Here's where your journal comes in. Write it all down… every ingredient and the date. Switch her food gradually over the next couple of weeks, so her body has time to adjust, especially when introducing raw food as it is harder to digest than processed food (but more normal). Give her a few weeks on the new diet, and watch. If she's still the same, switch one ingredient. If you switch more than one, and there's a change, you won't know which one helped or hurt. One at a time. This is called an elimination diet, because you are trying to eliminate the thing that's bothering her.
This approach obviously takes more time than a trip to the vet for a steroid shot, so remember the hug and the promise you made.