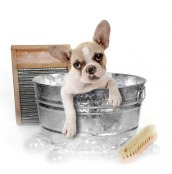 You don't ever see wolves soaping up down by the river, do you? Then why would you want to bathe your dog? Well, dogs in the wild tend to move around their territory, avoiding colonies of parasites, unlike our domesticated friends. We've also bred our dogs to have long, curly or very fine hair, which can prove too difficult for them to groom with their teeth, paws and tongue.

Plant debris, dirt and mats can collect in their coats, which could lead to irritation. Household dust can contain toxic substances like flame retardant from curtains, carpets and furniture, tiny flakes of paint - possibly lead based, synthetic fibres, and in a city like Vancouver, grime from automobile exhaust and asbestos brake linings. Floor cleaning chemicals and carpet fresheners are poisons your dog picks up on his pads. The last thing you want your dog to do is lick these toxins off his coat and ingest them, but it's not realistic, nor is it good for your dogs skin and coat, to bathe him every day. Once a month is a good rule of thumb, but more frequently if he's been walking city streets, or if you suspect he strolled through a garden treated with pesticides or herbicides, even if he's been laying innocently on a deck made from pressure treated wood, as it contains arsenic. Just be sure to use a mild shampoo.

Choosing a shampoo can be a daunting experience unless you know what to look for. The idea is to wash toxins away from your dogs body to keep him in optimal health, or help him regain it by allowing his immune system to focus on bigger issues. Select one made from organic oils, such as olive, coconut and jojoba, and scented with essential oils, not fragrance. Speak to a groomer who specializes in holistic and organic principles, as these people are a wealthy source of information, and eager to help spread the word.